When you are looking for a new mattress, you might be surprised at how expensive they are. It is pretty amazing considering that they are a basic necessity for most people. However, there are some reasons for this.
When you buy your mattress from a store, the retailer normally marks up the wholesale price by 50% or more so that they cover their expenses and make a profit. In addition, some mattresses are made with higher quality materials, including cooling foams and organic latex, and they are more expensive.
If you understand the factors that make a mattress expensive, you can find ways to save when you are out searching for the right one. Continue reading to learn all about why mattresses are so expensive and how to find savings.
Why Are Mattresses So Expensive?
There are a lot of factors that make mattresses expensive. When you buy from a physical store rather than online, there are added expenses for the vendor. When stores set their prices, they are trying to cover a number of costs, including sales commissions, advertising costs, the costs of renting a physical building, payroll for employees, and more.
You would think that the extra cost would discourage the opening of physical stores.
Not really.
According to ABIS World, there were over 13,000 Bed & Mattress Stores Businesses in the US in 2021. By comparison, there were over 17,000 new car dealers businesses in the US in 2021. So, there are more car dealerships, for now. According to the same source, car dealerships grew at a rate of 1.7%, while mattress' stores increased by 2.6%.
So, we may soon have more mattress stores than car stores.
Most mattresses stores will normally mark mattresses up between 40% and 50%. However, some stores will mark mattresses up even more. They might go as high as 200% to 300% and more. In fact, you can find mattresses selling for $4,000 that are actually manufactured in China and cost the store $400. This is why you need to do your research before you buy a mattress.
Another reason that mattresses are so expensive is that mattress companies and stores may work together to raise the price. For example, mattress manufacturers might make small adjustments to a mattress and sell it as different models to different stores. Although it is essentially the same mattress, it is listed as a different model and it becomes difficult for you to comparison shop.
In addition, there is not much of a used mattress market. Most people only buy new mattresses because they don't want to take a chance of getting a mattress with bed bugs or that has lost its effectiveness. As a result, there is little pressure on the new mattress market to pull down the price.
Materials That Will Drive Up the Price
You will also notice that some mattresses are made with higher quality materials. They might be certified organic, while others might use natural fibers. The materials that will drive up the price of a mattress include the following:
GOTS certified organic cotton
GOLS certified organic latex
Natural flame retardants, such as wool
Natural fibers
Memory foam
High density memory foam or polyfoams
Individually wrapped coils
You will pay more for mattresses that have orthopedic qualities, including extra support for your back and joints. They might have edge support that prevents the edges from sagging with use. You can also find hypoallergenic mattresses and mattresses with gel foam or other cooling agents. Some are thicker or have extra padding for more support.
Our Recent Shopping Experience
We recently purchased a king-size mattress for one of our bedrooms on the second floor. As I started to look for a mattress, I got such a headache that I stopped for a couple of days. Then, instead of searching more, I asked my son what type of bed he liked because the room is a guest room, and he'll be using it often. He said a medium-firm Tempur-Pedic would be nice.
So I went online in search of a "deal." I found the TEMPUR-Cloud®, which apparently was about to be discontinued at a 30% discount, and I pulled the trigger.
I think I got a good deal, but to be honest, I don't know. What I know for sure is that my son likes the bed, and I do too.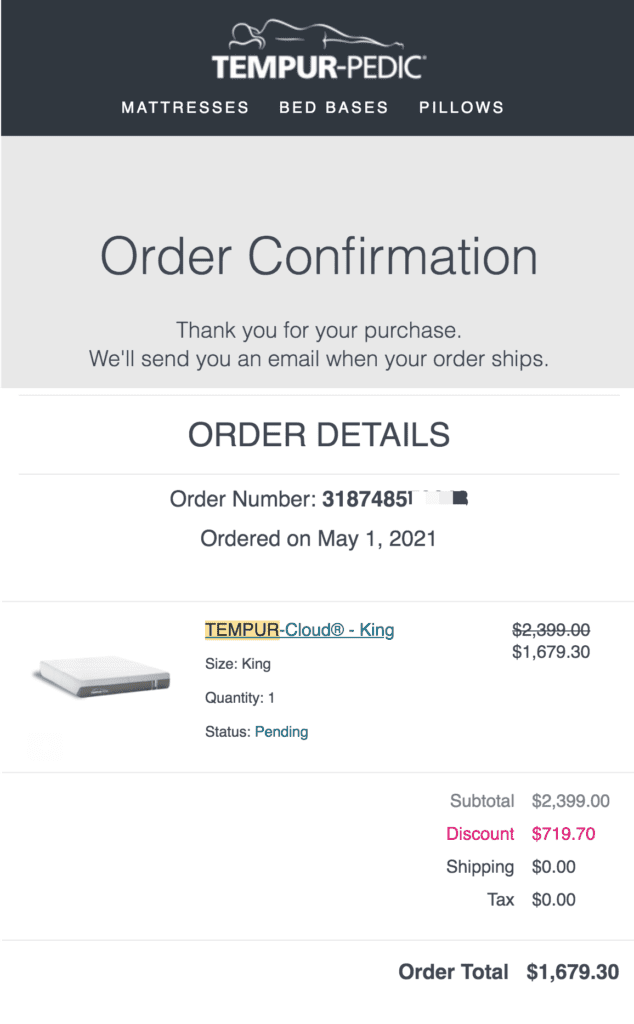 Mattresses Could Be much Cheaper with the Same Quality
In this video, Jim the Mattress Guy makes a few excellent points that further explain why some mattresses may be seriously overpriced.
These are some of the points of the video to shine more light on why high mattresses have a high markup.
There are hundreds of manufacturers in the USA alone that make mattresses for major brands. Many of those manufacturers will produce their own house brands. You can call them generic brands or private label brands.
This is not unusual in manufacturing; think of generic brands of consumer products with the same ingredients as famous brands, but lower prices.
There are no proprietary mattress ingredients exclusive to the brands.
All manufacturers get the components from the same sources.
Any factory can make whatever quality mattress they want and sell it directly without the famous brand markup.
Please note that I am not sponsored or recommend the Affordable Mattresses by Appointment brand. I just think Jim makes very good points that help understand why mattresses prices may be too high.
How to Find Reasonably Priced Mattresses
It is important to do your research before you head out to shop for a mattress. You need to have a good idea of what features are important to you before you head out. If you want a very basic mattress, you will look for a traditional spring mattress or a lower quality memory foam mattress. An organic latex mattress would cost about twice as much.
You can save money if you shop online. You can often find discount codes and save as much as 50% from what you would pay at a store. Look for free delivery and make sure that you can return it. You can also find a company that will remove your old mattress as part of the purchase. You may not be able to lie on the mattress first, but lying on a mattress for five minutes won't tell you how your body will react to it over the first month anyway.
Another way to save money is to wait for discounts and sales. There are typically sales during big holidays, and you can save a great deal of money by waiting. You can also look for stores that offer financing at 0% APR. Of course, you will need good credit, but this makes your mattress more affordable because you can spread the cost out, and you won't pay any interest.
If you go to a small business as opposed to a large retailer, you might be able to haggle. You can offer less, and they might take it. You have nothing to lose by trying. Many sales people work for commission, so they want to make the sale. If it is a matter of offering you a discount, they will do what they can because the sale is more important than the final price for them.
Don't Let a Salesperson Pressure You Into Buying What You Don't Need
A mattress store will try to sell you the best possible mattress, so it is important to go to the store knowing what you need. You might not need all the bells and whistles. Some studies show that a medium level firm mattress is a good choice for the average person.
But everyone is different and you may want a mattress with adjustments or other features, so make sure that you know what you are looking for and what you might pay for it. If you do your research, you will be better prepared when you talk to the sales people.
If you have extra time, you can also compare mattresses and shop around for the best deal. Just remember to shop by feature rather than by name.
Final Words
Mattresses can be very expensive, so it is important to know what you are looking for when you set out to buy one. You can compare store mattresses with those online, and be sure to wait for sales and discounts. Know what features you need, and be prepared to stick to your budget.
Video Summary
I have created a quick summary video for this blog post. If you like this video, consider subscribing to the House Notebook Youtube Channel.
Related Posts: