If you have a lush, green lawn, manual watering consumes time and energy. Some homeowners are afraid that installing and maintaining a sprinkler system, together with water consumption, comes at a high cost. I wanted to understand more about the pros and cons before making a final decision to install or not to install one.
If you want to maintain a healthy and beautiful lawn, installing a sprinkler system will prove to be worth it. Sprinklers save time, water and take care of the lawn even when homeowners are away. The downside is the relatively high purchase and installation cost, but all the benefits justify the investment in most cases.
Sprinkler systems have numerous advantages and some disadvantages. After completing serious research and talking to professionals and neighbors, I gathered the following information which was helpful for me to make a decision. I hope it is also useful for you.
Cost
Using a garden hose, or a bucket of water may seem cheap and straightforward, but it is inefficient. And in the long run, you will spend more water doing it manually. Water cost is worth considering because, depending on where you live, the water bill may be significant. Having a sprinkler system that is well adjusted and precisely installed will lower your water bill by optimally dispersing water over your lawn. On the other hand, buying the system and installing it can be quite pricey.
There are different costs associated with sprinkler systems:
Purchase – there are various options available which differ in quality. Also, the bigger the lawn, the higher the price.
Installation – you can do it yourself, but hiring a professional will ensure quality work.
Maintenance and repairs – Regular maintenance is quite cheap, but repairs can be expensive.
Water – sprinkler system will use less water than manual watering, but it will take some time for the savings in water to cover the initial cost.
The system's price, together with installation, can be up to $5,000 for an average lawn. There are much cheaper options, but you should avoid low-end products as they can break down quickly.
Maintenance
Below is a list of typical maintenance tasks your sprinklers may need.
Dirty parts – The maintenance of sprinkler systems is not very complicated. It needs to be cleaned when it gets dirty. Fungi or mold can grow on wet parts, so you should regularly check your system's condition.
Freezing temperatures – If you live in areas where temperatures drop below the freezing point, you need to empty the system before winter. In other words, the sprinkler system needs to be blown out. Frozen water in pipes or sprinklers may cause breakage. That is not a demanding job, but it has to be done on time.
Leaks – Water leakage is one of the most frequent problems of sprinklers systems. It can increase water consumption, and if it is a big leak, it can make a mess on your lawn and surrounding area. If your system has rubber pipes, be careful not to damage them. Repair or replace any part that looks like it has reached the end of its life.
You should perform a detailed and thorough system check-up twice a year. You may want to contact a professional if you are not sure how to do it yourself.
Advantages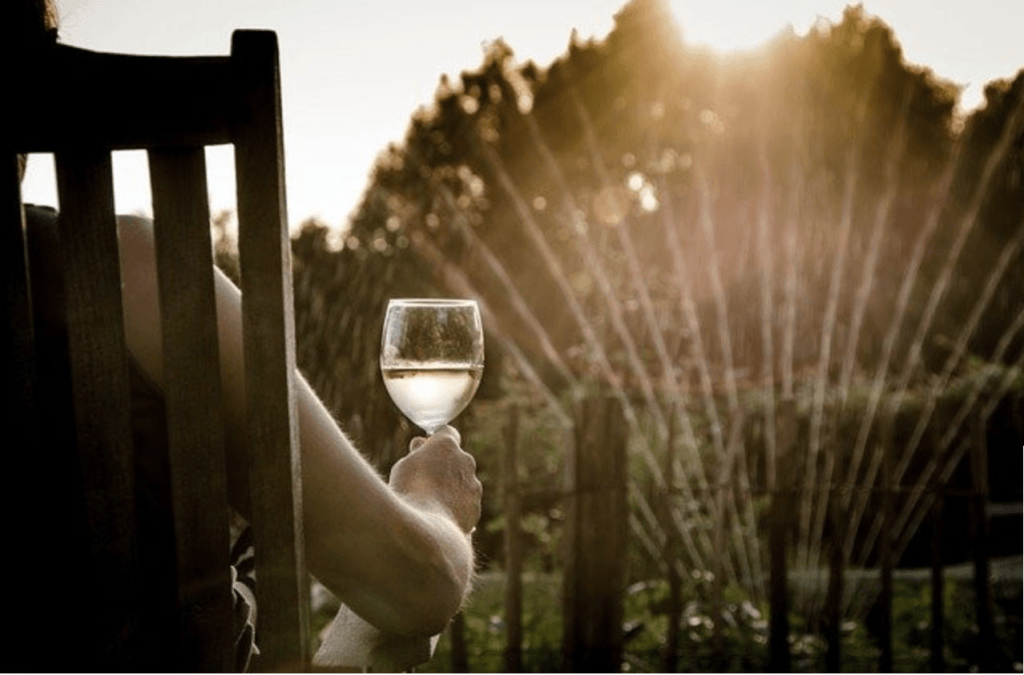 These are some of the most important advantages of sprinkler systems:
Water savings – Sprinklers spend less water. But that is not the only benefit of water usage. Sprinkler system will water your lawn very precisely and using the optimal water quantity suitable for a specific grass or plant type. You can adjust it, and it will never over-water it. Modern sprinkler systems have additional moisture sensors, or you can connect them to wi-fi to water your lawn according to the weather forecast.
Time saving – A sprinkler system will save you time, but it will also ensure that your lawn is watered consistently at an appropriate schedule. The schedule can be morning or evening, every day or every other day, once a week, etc. And you can change it every season—more watering in summer when days are dry and hot, and less watering during rainy autumn. Imagine trying to do this manually. Just be mindful if you live in an area with a summer water shortage. You can just sit on your porch swing and enjoy your sprinklers with a glass of wine.
Convenience – The sprinkler system will water your lawn when you are on vacation. Maybe you want to rest and enjoy a quiet afternoon? Don't worry; sprinklers will take care of your lawn. It is extremely convenient to have it installed.
Zone setting – You can adjust the system to water certain zones more than others. Also, by using moisture sensors, the system can adjust watering in specific zones to be optimal. For example, if one part of your lawn is in constant shade, it will require less water.
Property value increase – A sprinkler system will indirectly enhance your home's overall curb appeal, which will increase your home's market value. According to The Lawn Institute, "a well-designed and maintained landscape, increases a home's property value by 15 to 20%.
Disadvantages
Although there are many benefits from having a sprinkler system, there are also some drawbacks:
Pest damage – various pests living underground may damage the system.
Maintenance and repairs cost – once in a while, you will have to spend some money to keep the sprinkler system operational.
Wind – winds may cause the fine water drops to fly away and not to water designated areas. Also, water flowing from the lawn may stain the sidewalk or anything in the vicinity.
Large irrigation systems require professional planning and permits. You want to make sure it is done correctly. For example, you don't want too much water going into the septic tank area (if your house has a septic system.) On a side note, we decided to hide the vent pipes of our septic system.
Factors to Consider Before Installation
Different sprinkler systems are suitable for different lawns. Sometimes simple and cheaper solutions are not ideal for specific locations. Before purchasing, consider the following:
Lawn size – small lawns on flat surfaces can be equipped with basic systems. More extensive lawns having different areas have to be zoned. In that case, it is advisable to hire a professional. In our case, we also had to work around our newly built outdoor deck.
Sprinkler and system type – there are above ground and underground options. The latter is more expensive. Sprinklers also differ, and you can choose among stationary, revolving, and others.
Watering schedule – it is better to water less frequently but for longer, to deeply moisturize the ground.
Sprinklers positioning – this can be tricky. Try to place them so that all the water ends up on the lawn and not on the sidewalk.
What Sprinkler System Did we Install?
As you may know, we built a new house in Lewes, Delaware, and I am documenting everything we learn in this blog.
A few weeks ago, we hired a landscaping company to build a sprinkler system for our house, which sits on a 3/4 acre lot.
We paid a total of $7,209.27. This is what we got for this price.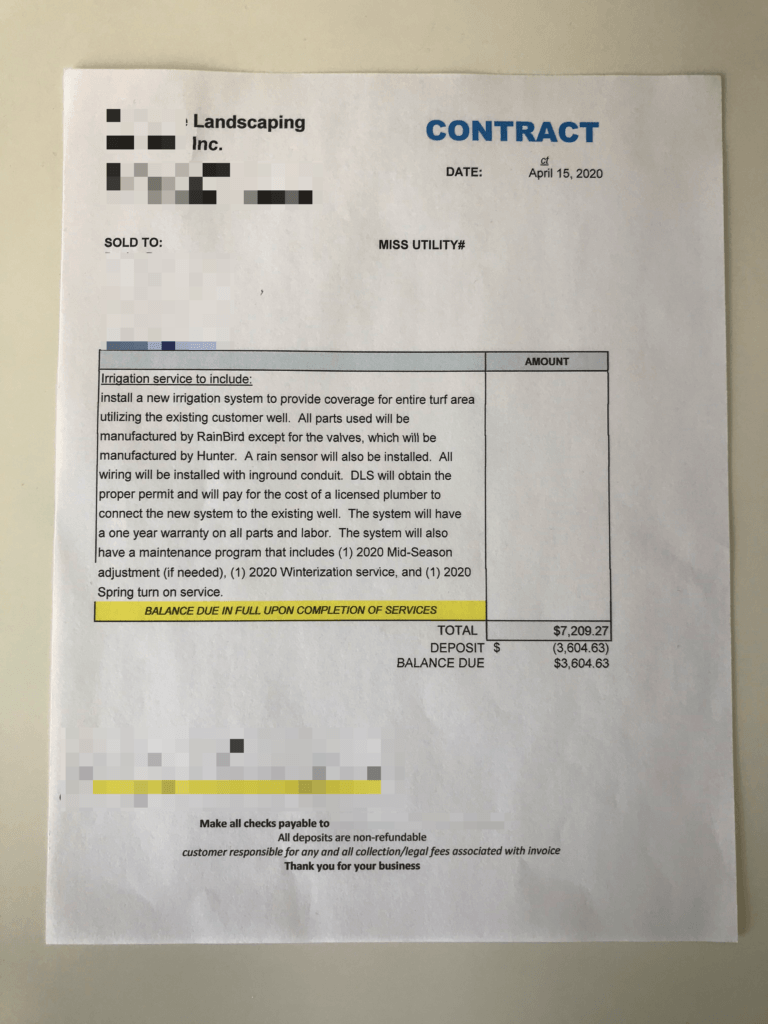 They installed an irrigation system to provide coverage for the entire turf area utilizing our existing well. All parts were manufactured by RainBird except for the valves that were built by Hunter.
They also installed a rain sensor. All wiring was installed in ground. The landscaping company obtained the proper permit required in Delaware and paid the cost of a licensed plumber to connect the new system to our existing well.
The system has a one year warranty on parts and labor. The maintenance program includes:
Mid-Season adjustment (if needed)
Spring turn-on service
House Maintenance To-Do List
I like to identify repetitive tasks that need to be done to maintain our house. I add these items to the House Calendar so that I don't forget to complete them. These are the items I have added:
Irrigation system checkup: twice a year
Summary Video
I have created a quick summary video for this section. If you like this video, consider subscribing to the House Notebook Youtube Channel.
Final Thoughts
Although, as you can see from our contract above, it can be pricey, having a sprinkler system is highly convenient and efficient. Advantages include saving water and having a healthy lawn, which will indirectly increase the resale value of your home. But each situation is different. Consider the pros and cons we highlighted in this post to make an informed decision.
Let me know what you think. Leave a comment below.
Related Posts: