You have spent significant money to finish your basement finally, and naturally, you expect that space to be included in the square footage when you sell the house. Most people assume that finished basement space is included in square footage. I hate to tell you that you may be in for a surprise.
In general, with some rare exceptions, if your basement is located below ground level, it should not be included in the square footage of your house. In some states, you can include your finished basement in the house's total finished square footage. When this is allowed, the numbers are often segregated, showing above ground level and below ground level square footage. Either way, as long as your finished basement meets local codes, it will contribute to the overall value of your house.
We recently bought a house in Lewes with a big unfinished basement and were thinking of getting it finished at one point. I was wondering if the finished basement space can be included in the square footage of the house.
Is a Finished Basement Included in the Overall Square Footage of the House?
Fannie Mae and ANSI provide the standards for this topic. Although their guidelines are not always clear, the overall consensus is that if a room is below ground level, it should not be counted towards your home's square footage. In other words, to be considered a "living area," in addition to meeting local codes, the finished space has to be above ground level.
While the above standards are widely used throughout the USA, some states and counties have slightly different interpretations. For example, you can include your finished basement square footage in Minnesota and areas of Minneapolis but you still need to list it separately as "below ground finished square footage".
This is an example of how you would see a hypothetical house listed in the multiple listing service (MLS) for Minnesota:
| | |
| --- | --- |
| House Surface | Square Footage |
| Foundation Size | 2,050 |
| AbvGrdFinSqFt | 4,400 |
| BelGrdFinSqFt | 1,300 |
| Total Fin SqFt | 5,700 |
What are the Requirements for a Finished Basement?
Most communities in the United States follow the International Residential Code of the International Code Council (ICC) to comply with finished basement requirements. However, some counties have different interpretations of these requirements.
In layman's terms, the overall expectation is that a finished basement should have comparable features and standards to the rest of the house.
In addition to mechanical, plumbing, and electrical requirements, the ICC also has general building requirements. These are some of the most important:
Ceiling Heights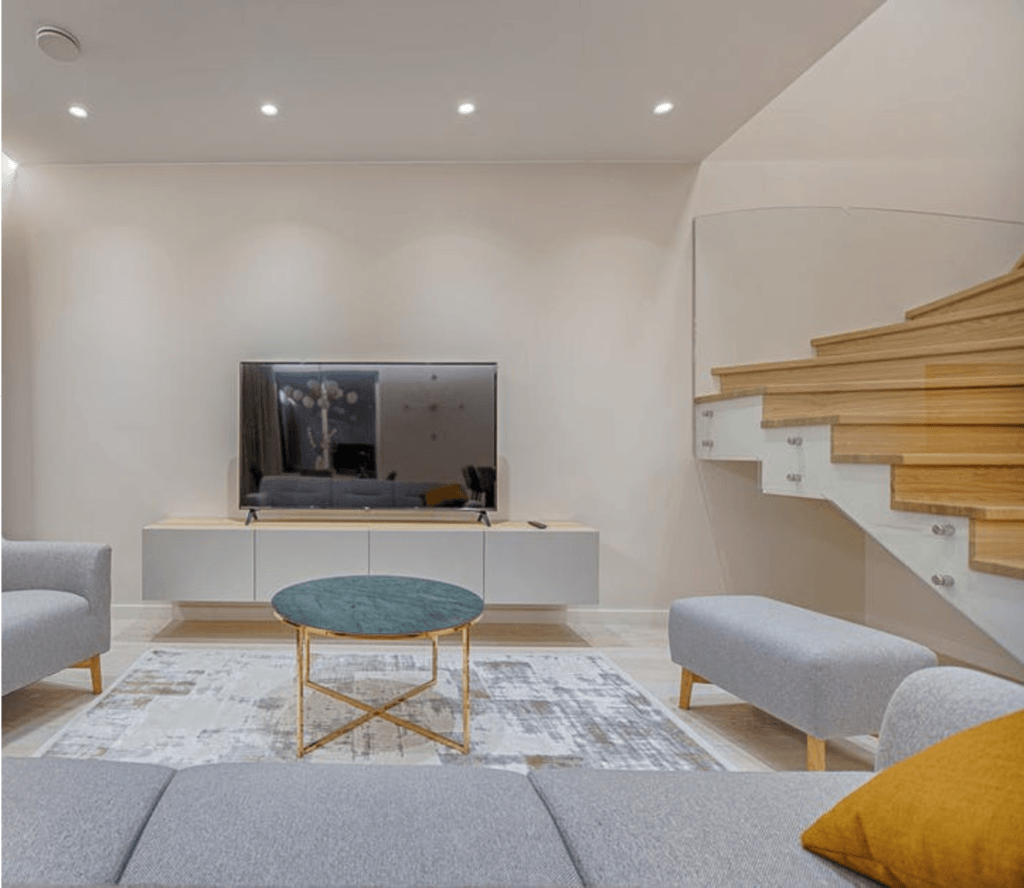 To be considered a finished basement, the ceiling height can't be less than 7 feet. If you have a bathroom or laundry rooms within the basement, they can't be less than 6 feet 8 inches. So, before you start getting excited about your finished basement, make sure it is high enough.
Stairway
A finished basement needs to have direct access to the main level of the house through a stairway. This has to be a permanent stair, not just a ladder. The stairway needs to meet certain requirements, including having an artificial light source to illuminate the landings and treads.
Heating and Ventilation
One way to determine if your basement has comparable features to the rest of the house is to look at the way you heat it and cool it.
For example, if you have central AC in the house but use a window AC in the basement, that may not be considered "finished." It's not necessarily that it needs to be the same as what you have in your home. But what you install in the basement needs to be permanent.
Egress Requirements
Code R310.1 of the ICC reads: "Basements, habitable attics, and every sleeping room shall have not less no fewer than one operable emergency escape and rescue opening […]"
That is, if your basement contains one or more sleeping rooms, each sleeping room must have an emergency escape and rescue opening. These emergency openings could be a door or a window but must open directly into a public way, or to a yard or court that opens to a public way.
Will a Finished Basement Increase My Property Value?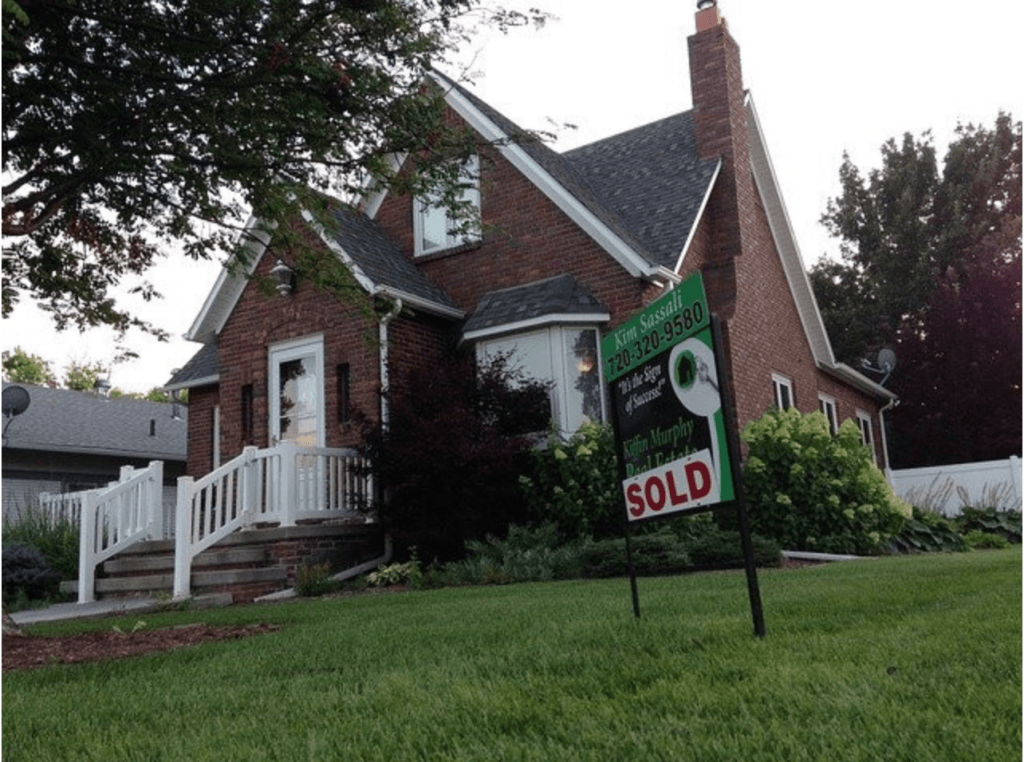 You may be asking yourself: Why finish a basement then? More than likely it will not be included in the square footage of the house.
Just because you may not add your finished basement's square footage doesn't mean you can't find a way to highlight that your house has a beautiful finished basement. Everything else being equal, a home with a finished basement should fetch a higher sale price.
But what is the return on your investment (ROI)? Don't be disappointed -It is not a profitable investment.
An analysis completed in 2017 concludes that if you were to sell a house with a finished basement, you would get back about 70% of what you spent. In the example they provide, a remodel costing $71,115 would increase the value of your home by $49,768.
So, now you are thinking, what is the point?
You don't recover the cost you put in when you sell the house. But, I think the main reason most people consider finishing a basement is not to increase the value of the house, but to enjoy the house more, which brings me to my next point.
What About the Finished Basement Intangible Benefits?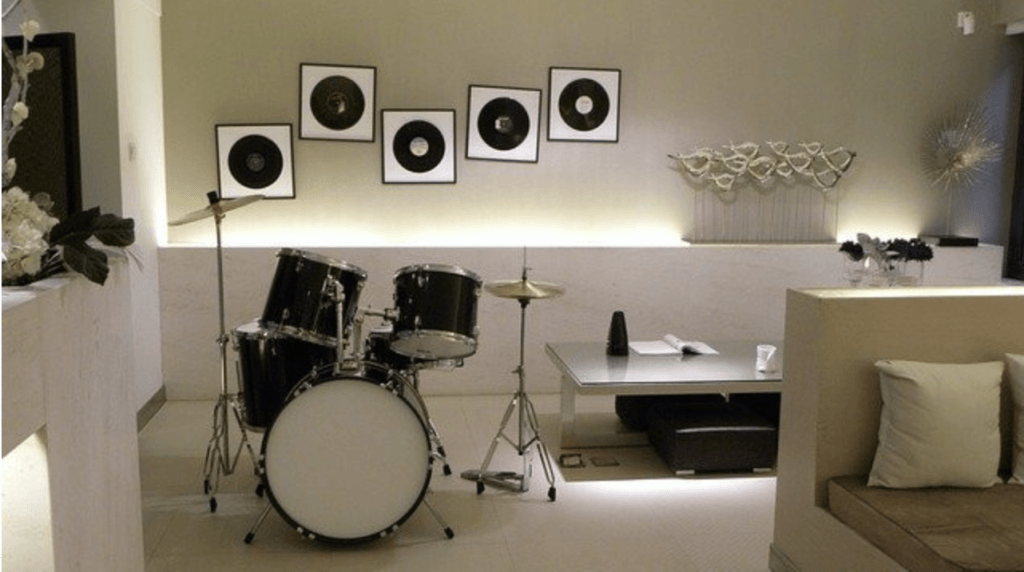 While you don't recover 100% of your investment if you sell the house, if you add some of the intangible benefits you gain with it, you may feel that you actually "profited" from that investment.
The bottom line, if you finish your basement and is up to code, you will increase the size of the home regardless of whether it is included in the square footage of your home.
What can you do with more space?
Additional Bedroom
You finally may have a decent place for your in-laws when they come and visit. Extended family and friends may feel less crowded when they come over for the weekend.
By the way, although your basement will have to be considered a legal living space under your local code, you could potentially rent the space. Be part of the gig economy and become an Airbnb host.
Additional Bathroom
You know that it never hurts to have an additional bathroom. Maybe you currently have only one and finally don't have to share it. That's definitely a plus.
Entertainment Room
For most men, the thought of having a man cave is like a dream come true. It is a place to get away from pressures temporarily and to decompress. Maybe that's what you can use it for.
Video: Does Basement Square Footage Count?
Below is a video with an interesting perspective from Katie Noel, a real estate agent. She goes over the intrinsic ways a basement counts towards the value of your home.
In the end, you probably will not be able to have your finished basement space included in square footage, but I don't think that is that important. You should be able to include it in your listing and increase the price of house because of that. And hopefully you get to enjoy your finished basement for many years before you sell your house.
Related Posts: