If you live somewhere on the east coast of the US, chances are you have heard of Rehoboth Beach. It is not only a beach; it's a city and a popular vacation destination. How popular, you ask. It's hot: the town shows a population per the 2010 census of about 1,300 people and reaches over 25,000 in the summer. That's fine and dandy for people. But what about dogs? Is Rehoboth Beach dog friendly?
You can take your dog to Rehoboth beach only from October 1 to April 30. But you have other beach alternatives nearby with more options, such as Dewey Beach.
We are relatively new to the area and want to know if and when we can take our little corgi, Luna, to Rehoboth Beach and what other alternatives we have.
We researched the topic and asked around and this is what we found out.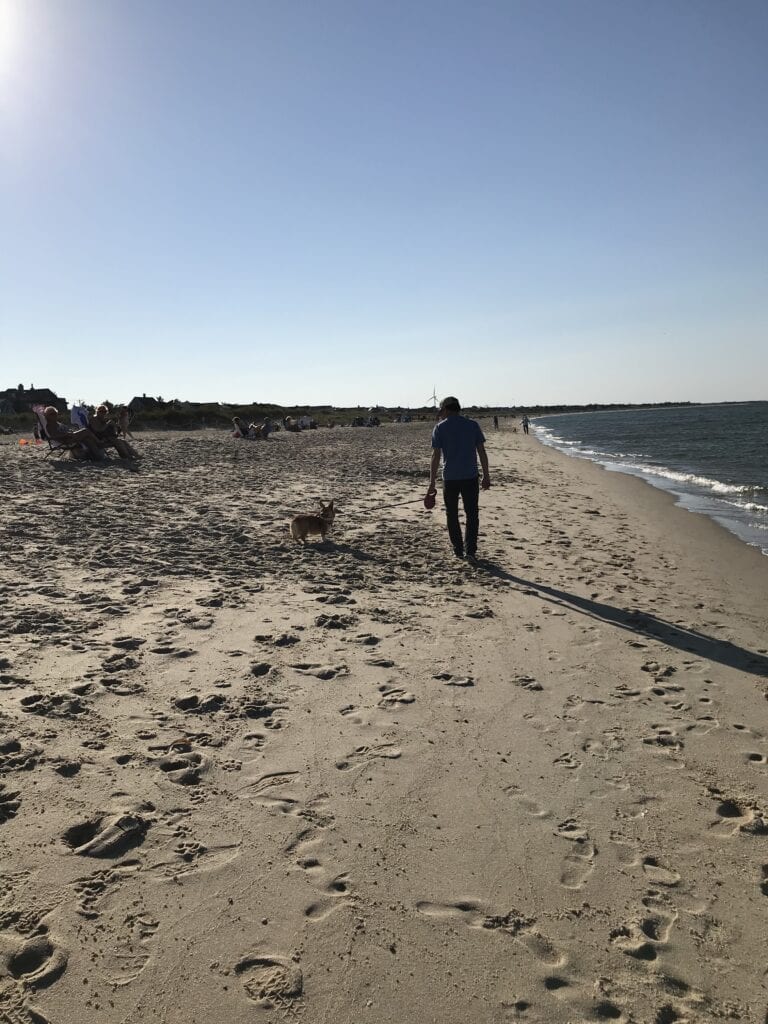 Is Rehoboth Beach Dog Friendly?
In a nutshell, Rehoboth Beach only permits dogs on the beach and boardwalk from October 1 to April 30. This is because the beach is always quite busy from May 1 to September 30 with tourists.
During the months that dogs are allowed on the beach, they must remain leashed at all times, and you must clean up after your pet.
So, if you are visiting Rehoboth Beach off season, it is a dog-friendly beach. During other months, you will need to find other alternatives.
In terms of beaches, your best alternative is Dewey Beach.
How About Dewey Beach? Is it Dog Friendly?
We now know that Rehoboth Beach is only dog friendly off season, but we have a better alternative in Dewey Beach, which is 2.6 miles south of Rehoboth.
I said a better alternative because it is one of the few towns on the eastern seaboard that permit dogs on the beach at least partially every day of the year.
But naturally, Dewey Beach is not without restrictions. Let's go over the rules of this beach as of the writing of this article.
When Can Your Dog Be on Dewey Beach?
May 15 – September 15 – Your dog may be on the beach before 9:30 A.M. and after 5:30 P.M.
September 16 – May 14 – Dogs may be on the beach anytime from 5:30 A.M. to 1:00 A.M. daily.
Unlike other beaches in the area, Dewey Beach allows dogs to be off-leash. Of course, the dog must still be under your control and you need to clean up after your dog.
Is It Free to Have Your Dog on Dewey Beach?
You knew there had to be a catch, right?
There is a special license you need to obtain before your dog can enjoy Dewey Beach. These are the license options you have available:
Lifetime license (good for the life of the dog): $35
8-day license: $10
3-day license: $5
Honestly, if you come more than once a year to the area, a $35 lifetime license is not too much if you really go to the beach with your dog. If you are a resident with a dog, I think it is a no brainer. Even if you go there now and then, it is worth the money.
How Can You Get A Dog License For Dewey Beach
You can purchase a dog license at the Dewey Beach Town Hall during normal business hours, which is the only option to purchase the lifetime license.
The 3-day and 8-day licenses can also be purchased at a kiosk located at the corner of the Town Hall parking lot. The kiosk is available to use 24×7. It accepts credit cards and cash, but you need to be careful if you are paying cash because the machine does not give change. You have to pay the exact amount.
What Other Beaches in Southern Delaware are Dog Friendly?
In general, most beaches don't allow dogs at the beach from May 1 to September 30. Also, with some exceptions, dogs need to be on a leash. An you always need to clean after your pet.
Below is a table listing well know beaches in Southern Delaware with specific rules. A link on each beach name takes you to the correspondent's official website to learn more or confirm this information.
| | |
| --- | --- |
| BEACH | DOG RULES |
| Rehoboth | Your dog can be on the beach or boardwalk from October 1 to April 30 only |
| Dewey | Dogs are allowed on the beach year-round, but from May 15 through September 15 only before 9:30 a.m. and after 5:30 p.m. Dogs do not have to be leashed. You need a special Dewey Beach dog license (see more details in the section above.) |
| Bethany | Your dog can be on the beach or boardwalk from October 1 to May 14 only |
| Fenwick Island | Dogs are allowed on the beach from October 1 through April 30 only |
| Lewes | Your dog can be on the beach year-round, but from May 1 and September 30, only before 8 a.m. and after 6:30 p.m. |
Rehoboth Beach and Nearby Dog-Friendly Events
Although you can't expect many dog-friendly events during summers, there are a few coastal events Delaware offers for your dogs in Spring and Fall. Here are some of the events that you can join.
Eat With Your Dog
Now that you know when exactly you are allowed to take your dogs to the beach, there's no way you're spending the entire time walking at the beach.
Inevitably, after a long day at the beach, you and your dog will get hungry. What's a better way to unwind than a delicious meal or snack, right? Here are some of the best pet-friendly restaurants where you can indulge in after a walk at the beach.
Stay-In at Rehoboth Beach
If you haven't found accommodation near Rehoboth beach yet, here some of the best hotels that are geared for dogs.
Related Posts: